Au Pair and Study
Au Pair and Study is the ideal opportunity for those looking for living abroad for a longer period whilst working with children.
Au Pair and Study
These packages are offered in conjunction with our partner language schools across Europe.
For students with an interest in working with children and spending time abroad learning a language, or improving your language skills.
For more information see our Frequently Asked Questions below.  
Included in the package:
Contents of the package can vary by destination depending upon the language school and city but typically they include the following:
Travel durations to suit your needs (typically upwards of 12 weeks but shorter stays are sometimes available in during the summer months)
Enrolment at a language school for intensive language lessons at a level to reflect your ability in the subject.
Application support – our team can advise on visas, medical, DBS etc.
Matching to a suitable and vetted family
Half board accommodation with your family
Optional cultural & social programme
Detailed pre-departure information pack
24/7 Emergency support from UK office
Programme certificate
Travel and medical insurance (supplements may apply)

.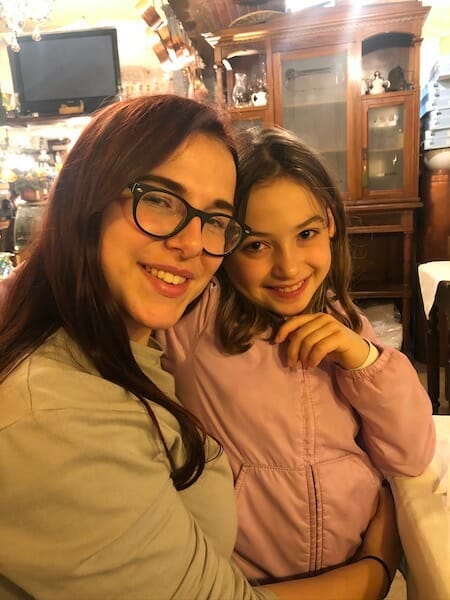 Frequently Asked Questions
Blank
Who can travel?
Students aged 18+ are able to travel.
You must have a DBS (Disclosure and Baring Service formerly know as CRB) or be able to apply for one. This is a document from the government that demonstrates you do not have any convictions that would prevent you from working with children. 
Can I travel with my friends?
Yes! We are happy to arrange for pairs or small groups of friends to travel together.  Each student creates their own booking and deals with payment and administration independently.
Au Pair placements are individual as we would not place more than one student with family at the same time. 
Can I go on my own?
Travelling alone can be a great experience and can be a good practice for going away to university if you are in a gap year. It also fosters independence in a safe and supported environment.
The language school will give you plenty of opportunity to meet new people and socialise in and out of the school. The staff at the school are also very supportive and used to having independent travellers. The host family will also be available to welcome you and introduce you to the area.
How much spending money will I need?
You may need/want to use public transport to get around the city during your stay. You shoudl allow some money for this. Your hosts will help you with a suitable travel pass to get best value for money where necessary. 
There is a range of activities and excursions arranged by the language school. Some of these are free or very reasonably priced. Others are more expensive – for example day excursions at the weekend may cost approximately €30-40 including transport. 
You should consider taking some Euros and having access to either withdraw more or be able to spend on a debit card. Many banks now provide services where you can spend abroad without being charged an additional fee other than the exchange rate. Feel free to ask us for more details.
Remember that you will receive an allowance from your Au Pair Family which can cover most of your weekly costs depending on how frugal, or extravagant your spending is!
How many other students will be on my course?
These courses are sold for individual (or pairs or small groups of friends). However, once you arrive at the school there will be lots of other students there. In any given week, it is hard to know how many students will be travelling from the UK but there will always be lots of international students and usually plenty of people your own age around the school to mix with. 
Close Accordion
Blank
How do you choose my family?
We consider the information that you provide on your application form, the families that are available, the dates and duration of your stay. Working with the language school we pair you with your vetted family. 
Au pair families are not like hotel rooms, there are not an unlimited number so it is not always possible to match ages or genders of children – you should be open minded and flexible but we will do our best to fulfil your preferences. 
We consider the location of your family, making sure that they are a sensible distance away from the school you will be attending and well connected by public transport where necessary. 
When will I find out my family?
We aim to provide your families contact details and profile several months before your travel to allow you time to get in touch and start getting to know them. Sometimes, depending upon when you book, this is nearer to the time of your trip but it is always prior to your travel. 
What sort of work will I be doing?
The duties expected of an Au Pair will vary depending upon the age of the child(ren) in your charge. Typically, the duties involve:
Playing with the child(ren)
Helping with homework
Helping the child(ren) to learn an appropriate level of English
Taking the child(ren) to the park or beach
Dropping off and / or picking up the child(ren) from school
Cooking dinner for the child(ren)
Taking the child(ren) to evening activities
Bathing the child(ren)
Putting the child(ren) to bed
Babysitting one evening per week
In addition you may be encouraged to speak English to the child(ren) and possibly adults in the house to help them with their English. Don't worry though, you will have plenty of opportunity to practise your language skills! 
How many hours will I work?
Typically, you will have 20 hours at language school and a similar amount of work with the family. You will usually have fairly fixed hours but you shoudl remain flexible to gain the most out of the experience. 
How far is the family from the language school?
Typically, families are less than 30 minutes from the language school. You may choose to use local transport and this is very much part of learning to live abroad independently and provides opportunities to use your language skills too. That said, walking around the city is also a great experience! 
Do I get paid?
Spain
You will receive an allowance of €50 each week from your family. 
Germany
You will not receive an allowance. 
Close Accordion
Allergies and Dietary Requirements
Blank
Can you cater for special dietary needs?
Where small adjustments are needed such as avoiding strawberries for a mild allergy reasons or avoiding certain foods out of preference (like brussel sprouts, for example), you can simply inform us on your application and we will make sure that the host family knows to avoid these foods during your stay.
If you have a more severe allergy please let us know through your application.  It is important we know this as soon as possible so that we can allocate hosts appropriately. Where slight adjustments to the food served are needed these can usually be made in most families. If more significant changes are needed we may seek a specific family who can cater for your needs.
If you carry an epi-pen (or similar) for allergies, we will inform the host family in advance if you are staying with a host.
Vegetarian, Vegan, Halal, Gluten Free and other specific diets can usually be accommodated. In some locations there may be a charge for a special diet to be provided. Again, please let us know of any requirements early in your application. 
Do host families have pets?
Some host families have pets. If you have a preference to avoid staying with a host family with pets please let us know via your application.
Close Accordion
Blank
When are the booking deadlines?
We recommend booking at least 12 weeks prior to travel. This gives plenty of time to arrange the appliation, enrolment at the language school, matching to your family, and completing your application. 
Late applications may sometimes be accepted so it is worth contacting us to enquire about booking. We recommend booking early to to avoid disappointment.
What is included in the price?
The package is detailed above. 
What extra costs do I need to allow for?
You will need to allow for the following in addition to your package:
Lunches
Optional Social and Cultural Programme
Local transport if required
Souvenirs / Gifts
Optionally, you may want to allow a small amount of money for a gift for your host family or the child(ren) or you may choose to bring something from the UK.
Close Accordion
Blank
How will I get there?
Students usually arrive by air at the local airport. We can arrange or advise about transfers or you can use public transport which is always the cheapest option and adds to the experience of being abroad.
Your hosts may meet you on arrival and we will confirm these arrangements in your pre-travel documentation. 
How much travel is involved when I am there?
As with most city breaks, to make the most of exploring the area there will be lots of walking and exploring using public transport. This will help you get to know the city and give you plenty of opportunities to use your language skills.
You may be required to take public transport to get to your language school.
Close Accordion
Blank
How will I travel?
Coach Option: Coach transportation to the various destinations is normally provided from pick-up points at motorway services in England along the M1/M25 or M5/M6/M4/M25 corridors. The coach travels to Dover crossing by ferry to Calais.
Students are responsible for making their own travel arrangements to reach their allocated service station. Some students arrange to lift share. Mobile numbers of students are published in MyAccounts for those students who choose to share their numbers. This can help with lift sharing in some instances.
Air Option: Flights will be from one of the main London airports (Luton, Stansted, Gatwick or Heathrow). Students are responsible for making their own travel arrangements to the allocated UK airport.
Return transfers between the airport and accommodation in your destination are included in the package. 
Can I travel independently?
We frequently have students who join the group by travelling independently. This can be due to other commitments, travelling onwards after the trip or travelling from distant locations. This can be arranged in most instances as required. You should contact us at the time of booking to discuss the options available. 
Where necessary, we will request some brief additional paperwork for students travelling independently to assist the Group Leader in ensuring that you meet up with the main group or make onward travel. 
Close Accordion
Blank
Which meals provided?
Host Family Option: Breakfast and evening meals are provided.
Residence: Self-catering – no meals provided but there are always plenty of places to eat out to make the most of the local area and culture. 
Close Accordion
Blank
What is the Code of Conduct?
The Code of Conduct is part of the application process. It is an agreement that we ask students to sign in order to make clear the expectations of students on these trips. In general students are keen to get the most our of the trip and this is best achieved when following the simple rules.
A copy of the code of conduct will be available in the MyAccount created for all students travelling. 
Close Accordion
blank
What should I pack?
We have put together a handy packing guide here. Of course you may need extras that are not listed here but this is a starting point.
What about the Corona Virus (Covid 19)?
We have a Covid 19 Policy which should offer some reassurance. We will ensure that sensible precautions are being taken and we will keep our destinations and choices of travel up to date with the latest guidance from the FCDO making sure that we minimise risk as far as is practicable.
Ultimately, the decision to travel rests with students. We want you to feel safe when you travel. We recommend following the latest guidance from the national and international bodies that advise on health and safety in relation to this virus.
Close Accordion
Looking for an alternative package?
Why not consider one of our Work and Study packages. Available throughout the year for 1 week upwards to destinations across France, Germany or Spain.
Over 18 and looking for a placement abroad?
Our tailor-made packages travel throughout the year. Get in touch to find out more.