Turing Scheme
Blue Stamp Travel work with schools and colleges to deliver Work Experience Abroad with 'linguistic support'. We also offer VET work placements for development of key skills and work place skills for non-linguists. These can be delivered under the Turing Scheme grants to enable these trips to be undertaken at no cost to schools, colleges or young people. We are particularly proud of the role we play in enabling disadvantaged students to participate in these life changing opportunities. 
What is The Turing Scheme?
The Turing Scheme was introduced in 2021 as a replacement for the Erasmus+ programme after the UK's departure from the EU. Named after Alan Turing, founding father of modern computing, the scheme is available to organisations to apply to on behalf of learners, to deliver educational aims made possible through travelling abroad.
You can find out more about the scheme on the Turing Scheme website.
Sixth Form Colleges, schools with Sixth Forms and VET / FE institutions can apply for funding to deliver projects that involve travel overseas for work placements. Funding is then made available allowing students to participate for no cost. Additional support is available for disadvantaged young people to enable them to pay for suitable clothing, suitcase, passport, visa etc. Funding is also available for younger students for mobilities not involving work placements. 
Frequently Asked Questions
Where to I apply?
Visit the Turing Website to find out more or to register an interest.
The deadline for applications for projects in the  2023/24 academic year is 4:00pm Thursday 6th April 2023.
Is there a minimum duration?
Projects for students who are 16+ (FE/VET) must be a minimum of 14 days. Projects over 14 days can include linguistic support (language school) as part of the project. This can take the form of lessons for 1 week at one of our partner language schools prior to a work placement.
What work placements are available?
Students select from our list of business categories and we aim to provide a placement to match their highest preference.
What type of accommodation is available?
We can arrange host family accommodation to provide students a fully immersive experience giving the opportunity to learn more about local culture and give you further opportunities to develop language skills.
Alternatively, we can arrange hotel accommodation.
How would a group travel?
We provide a fully inclusive package including flights, coach &  ferry or Eurostar.
Who can take part?
We provide projects for French, German and Spanish students aimed at developing language skills and workplace skills. We also work in Italy, providing placements aimed at developing key-skills and vocational courses; catering, hospitality, business, tourism, public services, IT etc.
Is there a minimum number for a group?
Usually, when funded by students personally, it is uneconomical to provide a trip for less than about 10 students (particularly as the costs associated with staff have to be shared between students.)  However, the Turing Scheme funding allocates funding to accompanying participants and is more than sufficient to enable even small groups of 4 or 5 students to travel with a teacher and Group Leader. Contact us for more details. 
Can teachers take part?
Funding is available for 'accompanying participants'. We request that you include a Blue Stamp Group Leader in your application for funding and any teachers that will travel with the group. This increases the funding available for the project meaning that students benefit from the full grant allocated to them personally.
Are the work placements paid?
Work placements are not paid. Placements are designed to provide students with opportunities to experience the world of work and develop skills that they may not be able to in a school, college or university environment; customer service, working as part of a team, time-keeping, independence, work-place specific skills… In addition, students will have the opportunity to practise language skills in a unique way.
What will is cost?
Please enquire for further details. Blue Stamp Travel are able to provide a comprehensive package within the budgets allocated by the Turing Scheme grant. There is no cost to the school to arrange a project. The cost to students is minimal and may include snacks, souvenirs and some social activities.
Blue Stamp Travel do not charge for any advice or support offered for Turing applications – you have nothing to lose in submitting an application for your students!
The Process
Schools apply in their own name. You can register for the scheme early but applications open in March. They may choose to name Blue Stamp Travel in their application as an approved, and experienced delivery partner – this can help with several sections of the application as you can state that we will take care of a lot of the safeguarding, risk assessment and practical arrangements! The application deadline is 4:00pm Thursday 6th April 2023.
Blue Stamp grant advisors are happy to provide feedback on applications.
You will find out if you have been successful in your grant application by the end of June.
'Organisational Support' funding of £315 per student can be released early in the project to fund deposits to secure your project. 
When you have the outcome of your application, you can contact Blue Stamp to start planning. We will provide you with a link for students to enrol to the trip that we plan collaboratively.
Turing will provide 80% of the trip funding about 3 months before the trip and 20% after the trip returns. Payments from the school to Blue Stamp Travel are made in advance of travelling.
Students are provided information about their trip via MyAccounts. Schools are kept informed throughout the process.
Students and accompanying adults travel.
End of Project report submitted to Turing.
Final 20% of award released. 
Staying with a host family was the best experience, honestly they were so nice and looked after us very well.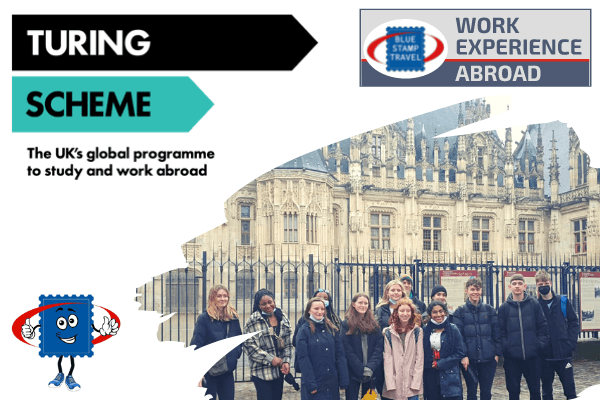 The Turing Scheme featured a project being delivered for The Trinity Catholic School, Nottingham in Rouen, France by Blue Stamp Travel in 2022 on their website.
What if my planned project is 'different'?
We have partnered with a number of schools who want projects delivered on their behalf. Blue Stamp are creative thinkers and are happy to explore your ideas with you. Collaboration is key for these projects and we love to work with motivated teachers and school administrators to deliver life-changing experiences for young people. Why not contact us for a chat with us? Perhaps we can have a Teams meeting and share ideas? 
Tailor-made Turing Scheme Projects
Each project is tailor-made to suit the requirements of each applying organisation. You may know exactly what you want or you may like some suggestions from one of our knowledgeable travel planners.
Why not get in touch so we can start a discussion about what we can do to help you?